GenFlex
GenFlex Roofing Systems is a leading, full-line supplier of high quality single-ply roofing products for the commercial roofing market. Our products have a strong history. Roofing has long defined who we are and what we do. With nearly 30 years in the single-ply industry, we bring native expertise to every product, system and accessory we offer.
Headquartered in Indianapolis, Indiana, we manufacture, market, and sell our products through our network of distributors and authorized roofing contractors.
Thank you for visiting our website. As you navigate through, you will find a thorough offering of product information, installation training videos, MSDS and product data sheets, and access to our knowledgeable team of technical, sales and customer representatives.
Innovation
We have produced a number of significant industry first. For example, in 1981 GenFlex became one of the original suppliers of EPDM systems. In 1996 GenFlex developed the first 12-foot-wide TPO sheet to meet industry code requirements. GenFlex launched the revolutionary Peel & Stick system in 2003, one of the most significant advancements in roofing in the past decade.
Products
We offer a wide selection of roofing products, systems and accessories to help achieve the specific goals of your application.
Rewards
We were the first to introduce a loyalty plan, the GenFlex Winner's CircleTM that recognizes both contractors and distributors, helping to advance the way we work with our customers and help them succeed, too.
GenFlex EPDM products withstand the test of time.
GenFlex Roofing Systems features three single-ply EPDM membranes: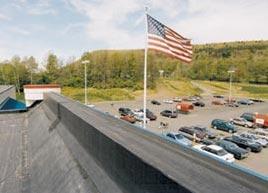 GenFlex EPDM (Ethylene Propylene Diene Monomer) - an elastomeric membrane GenFlex AFR an EPDM membrane that is fire retardant, and GenFlex FRM - an EPDM membrane reinforced with tough polyester fabric. Both are designed for ultra high performance. GenFlex EPDM systems have a performance history of over 20 years and can be warranted for up to 20 years depending on the system design
EPDM comes 45 mil (1.1mm) or 60 mil (1.5mm ) thick and is available in rolls up to 50'(15.2m) wide by 250' (76.2m) long. It is ideal for either new roofs or for roofing over a variety of common roof deck types and insulation materials
Installation systems include ballasted, fully-adhered and a number of mechanically-attached alternatives. Components include roofing tapes, bonding adhesive, sealants, flashing and applicable rooftop accessories
This is a high-performance membrane, resistant to tears, impacts, punctures and normal roof traffic. Normal structural movement has limited effect on its integrity. This membrane provides excellent resistance to ozone and ultraviolet light exposure.